"My child LOVED the online classes!! Thanks for such a cool program!"
– A happy Codezilla Kids parent
"My daughter attended Toy Makers camp and told me it was the best camp ever that she had done!"
– Luisa, a happy Codezilla Kids parent
2019 Best Of Winner – Toronto4Kids.com
2018 Best STEM Programs for Kids – Toronto4Kids.com
2018 Best Places In Toronto To Learn How To Code – NOW
Teacher-endorsed. Mom-run. Kid-focused.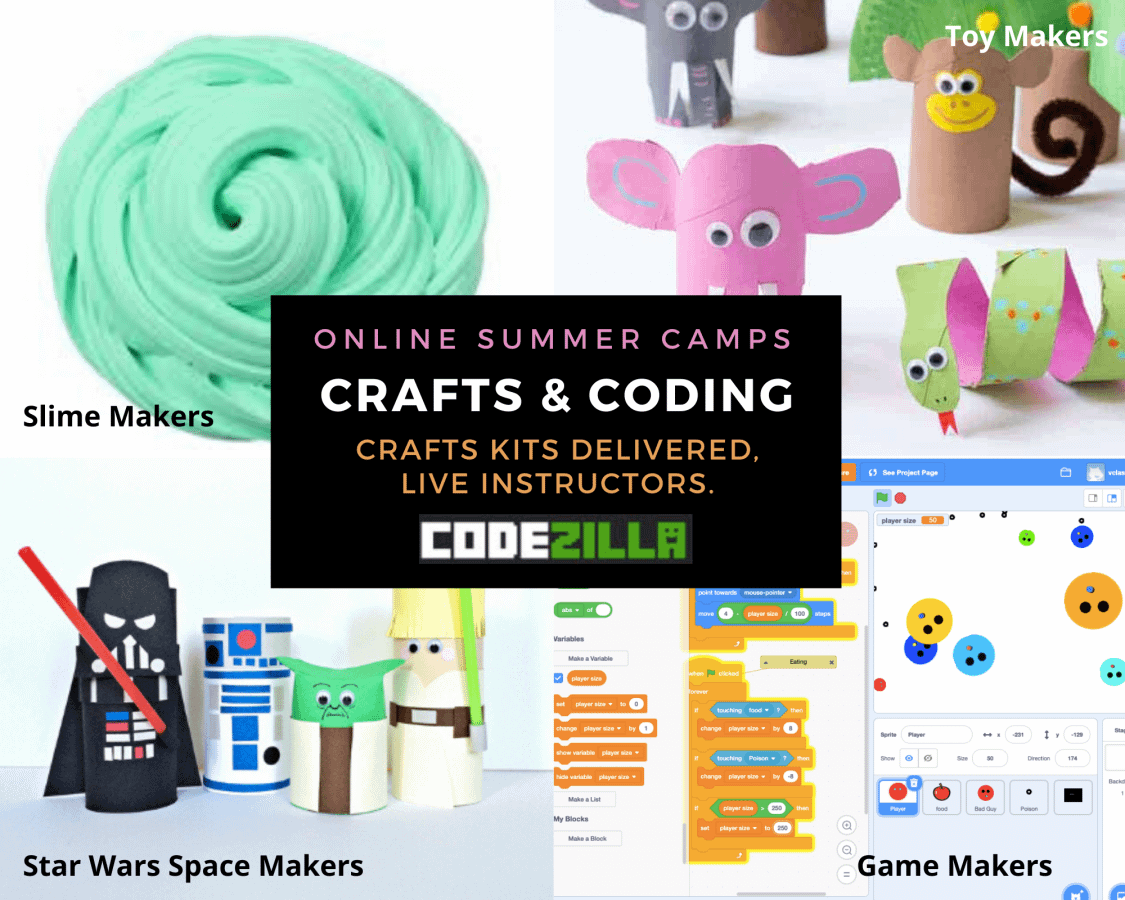 Online STEM Camps (ages 5-10)+

Online Coding Camps for Kids (ages 8-14)

Virtual coding camps have been enjoyed by children across Ontario and internationally!



"Wow! Thanks so much! The best part of (my child's) day today was your coding class. You are outstanding!!!"
– A happy Codezilla Kids parent
"My child LOVED the online classes!! Thanks for such a cool program!"
– A happy Codezilla Kids parent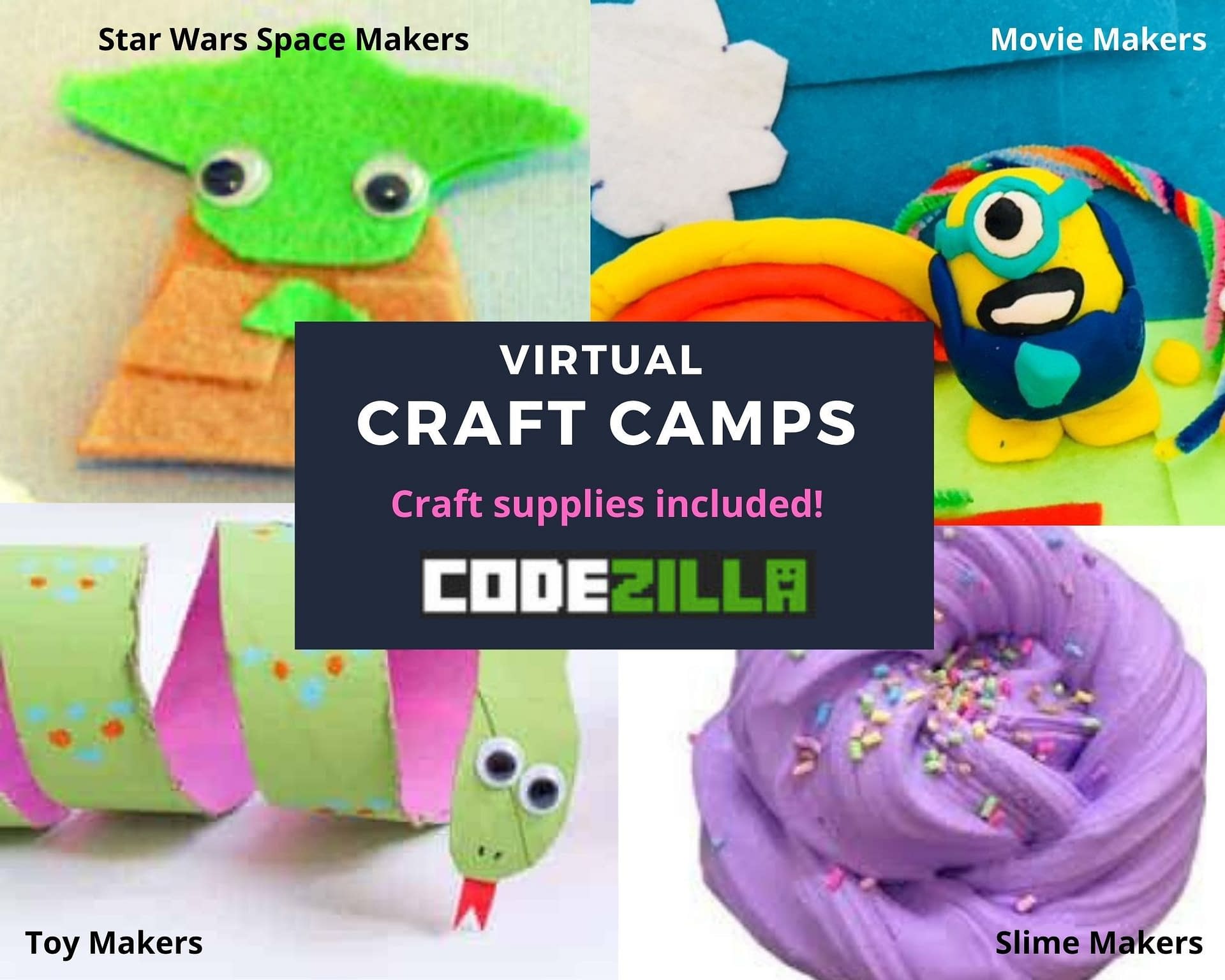 This was the best week of my life!
– Yara, 9 y/o slime maker
Daily classes include lots of social interaction: kids will share jokes and riddles, learn some TikTok dancing, virtual Show & Tells and more.
Camp registration is required at least seven (7) days in advance of camp start date, to ensure regular-mail delivery of camp materials.
Zoom link & all info sent Saturday before camp starts
Doll Makers, Movie Makers, Slime Makers, Star Wars – Space Makers, Toy Makers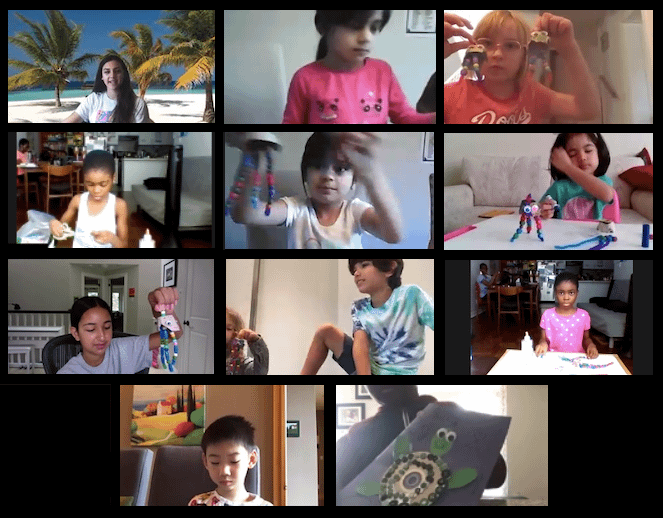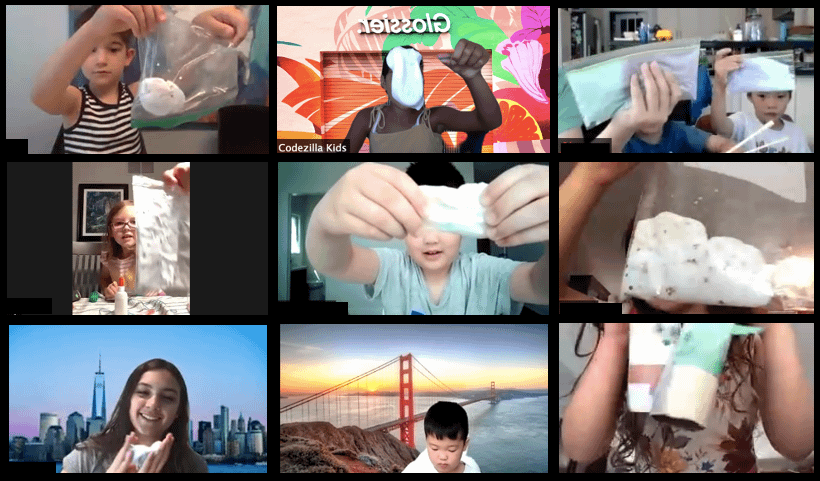 Looking to introduce coding for your kids online? Look no further, Codezilla provides engaging online coding classes for kids!
Coding with MIT's Scratch: a kid-friendly cloud-based software ("LEGO on a laptop"). Kids can code at home after class with their free account!
New video games for kids to code every week.
Non-violent video games that promote math, logic, problem-solving and creativity!
Zoom link & all Coding login Info is sent Saturday before camp starts.
Level 1: Beginners, age 8 – 10 (10 – 11 am, 11:15 am – 12:15 pm)
Level 2: Intermediate, age 10 – 14 (1 – 2:15 pm)
Level 3: Advanced, age 11 – 14 (2:30 – 4 pm)
NOTE: age is a guideline only; we often have younger (older) children in different levels. Please choose the level (Beginner / Intermediate / Advanced) that would best suit your child. They can always 'graduate' up or down! 😀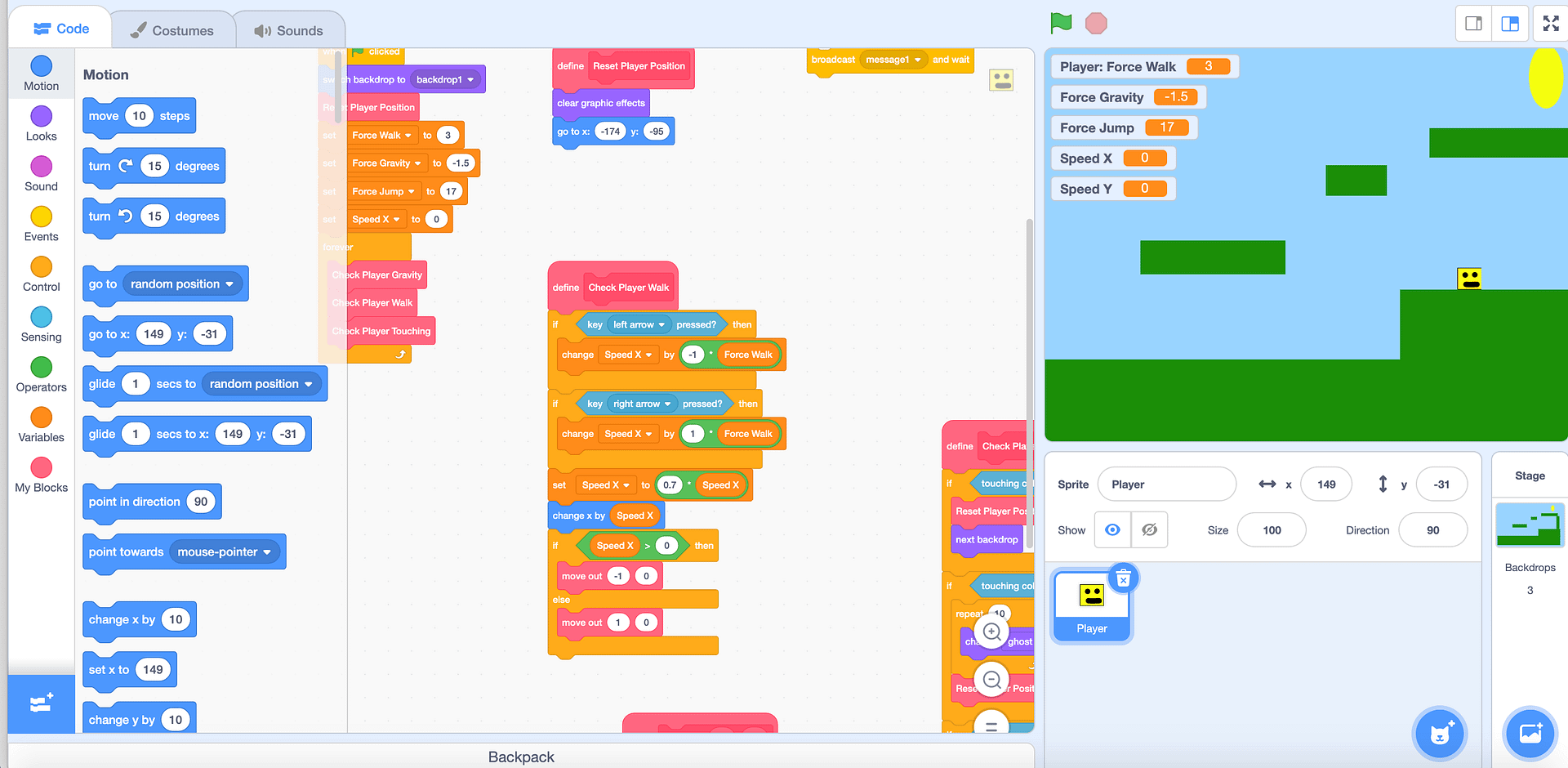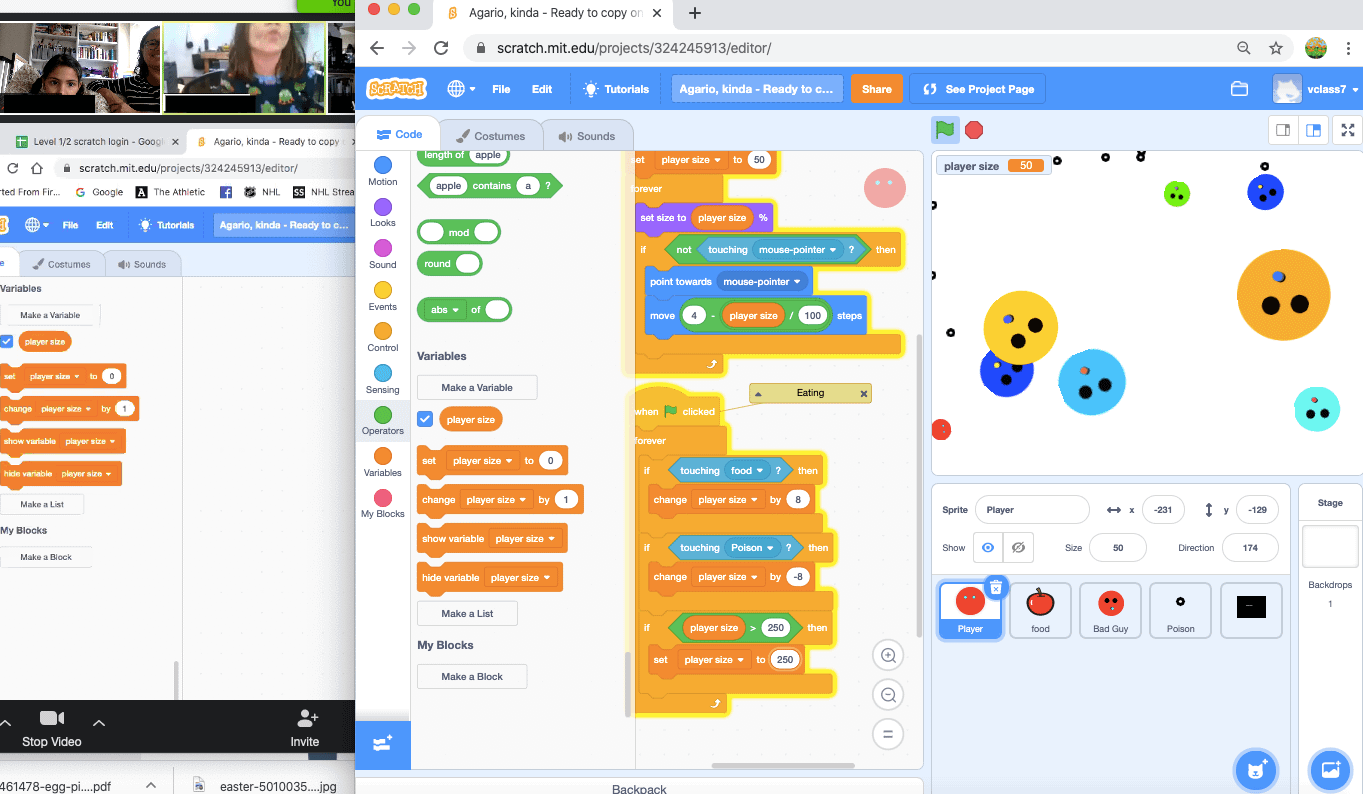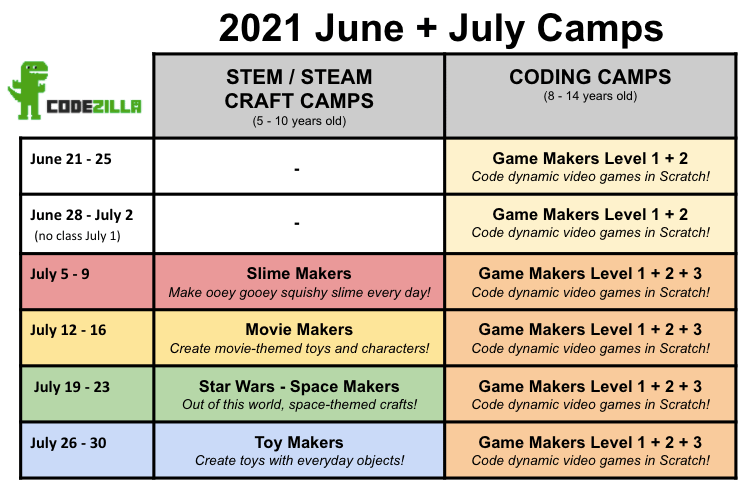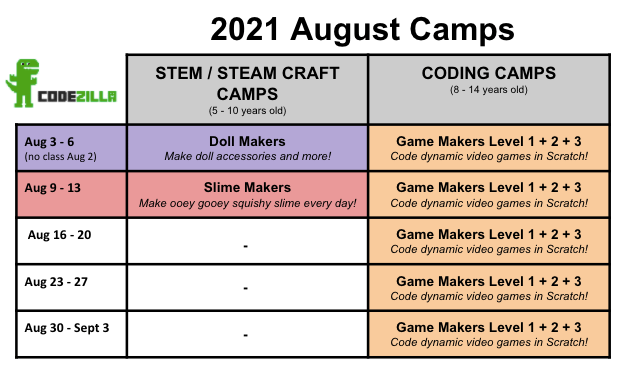 "My 11 y/o son loved his virtual summer camp experience with Codezilla. The pace was fast enough to keep him engaged, and the projects were interesting and stimulating"
– Julie, a happy Codezilla Kids parent